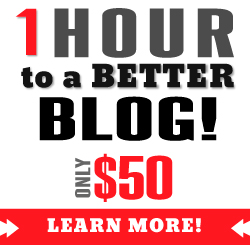 When you look at your blog do you wonder what others think of it? How can get more readers? How can you get your readers to stay longer? Sometimes you need an outside perspective. You could ask your friends but will they be honest with you or will they know how to explain what needs improvement?
How would you like a professional outside prospective?
Give me 1 hour and I will create a review and personal checklist for you to visually improve your blog!
What is included:
You will receive a review of your blog including a personalized checklist how to improve it.
The review will be broken down in The 8 Elements of Design:
First Impression
Logo
Header or Slider
Navigation
Posts* (Headlines, Photos, Content, Call to Action)
About Page
Sidebar
Footer
Your personal checklist will include ideas on how to improve each of the elements of design for your blog.
Are you looking for answers to some of these questions?:
Am I targeting my audience and clearly communicating my blog niche?
What is the first impression of my blog?
How easy is it to navigate my site?
Are my posts eye catching and easy to read?
Do you have specific questions you want answered about your blog? Please include them in your order!
Brutally Honest:
You are hiring me to give you a brutal honest review of your blog. I will not hold anything back, but I will also tell you how you can fix it!
Coupon Included!
With your report you will recieve a $25 coupon for any purchase you make at Uniquehorn Designs (excludes Photo Cards).
Feedback:
The review reads like an experienced friend sharing her knowledge and know how with you. I followed all of Pepper's suggestions and I'm happy for this opportunity. I've been working hard at building my blogging business (applied for a business license today) and I want create a great first impression for the brands I'm reaching out to; remember, their publicists do research bloggers.
If you think your blog could stand for a second opinion, I encourage you to reach out to Pepper of Uniquehorn Designs. It's a fantastic investment. – Kimberly from Adventures in Blogging
LIMITED SPACES ORDER NOW!
Fill out the form below. You will receive a invoice from paypal. I will email you a confirmation and a estimated date of arrival of your review!
 *This is not a review of your writing, but on the visual elements of your blog